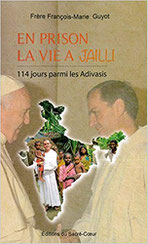 The book in French of Brother François-Marie, reports about the 114 days passed in the prison of Chaibasa among Adivasis 
You can order it on the site of  Amazone or La Procure.
In 2011 on the night of October 17 to 18, Brother François-Marie Guyot is arrested and incarcerated while carrying out the Lord's work with the children of Calcutta.
He is accused of kidnapping three young people and wanting to convert them to Christianity.
To this defamation are added horrible and insane remarks. In his innocence, he experiences what it means to be speechless, helpless, defenseless and dragged into the mud.
In his prison, Brother François-Marie does not waste his time. His vocation as Pilgrim of Charity leads him to help those who suffer the most from these thousands of prisoners. Assigned to the hospital with three other inmates, he provides care six hours a day. He also opens a class of English and singing, and especially listens to those among the criminals who wish to confide.
It bears witness to the presence of God in the heart of human injustice.